Environmental and biological survey and monitoring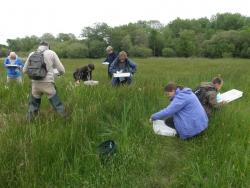 Survey and monitoring studies commissioned by the LOHP, or carried out by our volunteers, are available for download on this page.  The table below includes all LOHP sites and other sites of nature conservation interest in the Little Ouse Headwaters. We are grateful to our partner organisations for permission to reproduce some of their reports. All of these reports are under copyright - please contact us if you wish to use them for any puropse other than private study.
Published scientific papers on the physical and natural environment of the valley are also included in the table. These can be obtained by following the links provided. Some are freely available from some publishers and others can be purchased. For some topics on which little specific information is available from the Little Ouse headwaters area, references are given for work on near-by sites outside the valley.
Topic

Site/s

Year

Content

Author/s

Access/download file

Topography

Garboldisham Old Fen

2013

Topographic Survey, Old Fen, Garboldisham

LOHP (Mike Harding & Laura Cox)

 

All from The Frith to Parkers Piece

2006

Levels Survey

ELP2

Download jpg
 
The Frith
2002
Levels survey
ELP

Soils

Parkers Piece

/Bleyswycks Bank

2008

Parkers Piece and Blesywycks Bank

Restoration Proposals

ELP2

 

LOHP eastern sites

2006

Peat core data

ELP2

 
Thelnetham Fens
2014
Drainage and soils survey
Andrew Adams Land Management Ltd.

Archaeology/

Paleobiology

 
 
 
 
 
 

Parkers Piece

2009

Archaeological investigation & paleoenvironmental investigation

Cambridge Archaeological Unit

 

 

The Lows

2001

Holocene paleoenvironmental reconstruction of the Lows, East Anglian Fenlands (BSc dissertation) - 7 chapters in 2 pdfs

John Mullholland, Collingwood College

 
Bugg's Hole Fen
1981
New fossil evidence for past cultivation and processing of hemp (Cannabis sativa L.) in Eastern England

RHW Bradshaw, P Coxon, JRA Greig & AR Hall

click to locate reference
 
Redgrave & Lopham Little Fen
1953

Studies in the Post-Glacial History of British Vegetation: XIII. Lopham Little Fen, A Late-Glacial Site in Central East Anglia

P A Tallantire
click to locate reference
 
 
1968
Three more nameless meres
P A Tallantire
 
Diss Mere
1989

Vegetation and Land-Use History at Diss, Norfolk, U.K

 

SM Peglar, SC Fritz & HJB Birks

click to locate reference
 
 
1993

The mid-Holocene Ulmus decline at Diss Mere, Norfolk, UK: a year-by-year pollen stratigraphy from annual laminations

SM Peglar
click to locate reference
 
 
1993

The mid-Holocene Ulmus fall at Diss Mere, South-East England — disease and human impact?

SM Peglar & HJB Birks

click to locate reference
 
 
1984
Composition and formation of laminated sediments in Diss Mere, Norfolk, England

SM Peglar, SC Fritz,

T Alapieti,

M Saarnisto &

HJB Birks

click to locate reference
 
 
1993

The development of the cultural landscape around Diss Mere, Norfolk, UK, during the past 7000 years

SM Peglar
click to locate reference
 
 
1989

Lake Development and Limnological Response to Prehistoric and Historic Land-Use in Diss, Norfolk, U.K

S C Fritz

click to locate reference
 
Quiddenham Mere
1993

Mid- and late-Holocene vegetation history of Quidenham Mere, Norfolk, UK interpreted using recurrent groups of taxa

SM Pelgar
click to locate reference
Hydrology
 
 
 
 
 
 
Little Ouse: Crackthorn Bridge to Thelnetham Ford
1987
River corridor survey
John Alder, Nigel Holmes
 
All
1993
Dehydration and the threat to East Anglian Fens, England
V.J Voit
click to locate reference (p. 163)

 

All

2013

Groundwater Monitoring Points In the Upper Little Ouse Valley

Mike Harding

 
Thelnetham Fens
2014
Drainage and soils survey
Andrew Adams Land Management Ltd.

Parkers Piece/Bleyswycks Bank

2008

Parkers Piece and Blesywyck's Bank

Restoration Proposals

ELP

 

Little Ouse

2013

Little Ouse Headwaters:

pilot restoration project

Nigel Holmes

Vegetation

 

 

 

 

 
 
All
 
Ecological Studies in the Breck Fens I. Vegetation in Relation to Habitat
S M Haslam
click here to retrieve
 
 
2004
Important Stonewort Areas (see p.74)
N. F. Stewart
published by Plantlife International:

enquiries

[at]

plantlife.org.uk

 

 

Betty's Fen

2010

Stoneworts

Nick Stewart

 

 

2012

NVC1 Survey

OHES

 
 
2014

European Site Conservation Objectives for Waveney & Little Ouse Valley Fens SAC (UK0012882)

Natural England
click here to retrieve

 

Blo'Norton Fen

2012

NVC1 Survey

OHES

 
 
2014
European Site Conservation Objectives for Waveney & Little Ouse Valley Fens SAC (UK0012882)
Natural England
click here to retrieve
 
 
 
SSSI citation
Natural England
click here to retrieve
 
 
 
SSSI units and condition assessment 
Natural England
click here to retrieve

 

Blo'Norton Little Fen

2010

Stoneworts

Nick Stewart

 

 

2012

NVC1 Survey

OHES

 

Broomscot Common

2011

vegetation monitoring programme pilot

OHES

 

Bugg's Hole Fen

 

SSSI citation

Natural England

 
 
 
SSSI condition
Natural England
click here to retrieve

 

Frogshall Carr

 

 

 

 

 

Garboldisham Old Fen

2004

English Lowland Bogs and Fens survey

Natural England

 
 
Hinderclay Fen
1960
Transactions of the Suffolk Naturalists' Society, 11, 367-385
Bellamy, D.J. & Rose, F.

 

 

2005

NVC survey1

ELP (2006)

 
 
2012

NVC1 Survey

OHES

 

 

2010

Stoneworts

Nick Stewart

 
 
2003
Lichen Survey
Chris Hitch
 
Hopton Fen
 
SSSI citation
Natural England
click here to retrieve
 
 
 
SSSI units and condition
Natural England
click here to retrieve

 

The Frith

2006

condition assessment monitoring

ELP

 
 
2017
The Frith: vegetation monitoring programme fieldwork report, June 2017
Jonny Stone
   click here for data 

 

The Lows

2006

condition assessment monitoring

ELP

 
 
2017
The Lows: vegetation monitoring programme fieldwork report, June 2017
Jonny Stone
 Click here for data
 

Market Weston Fen

1959
Permanent plot data
David Bellamy: PhD thesis

 
 
1991
Re-recording of Bellamy's Plots
SWT – Mike Harding
 
 
1995

Thirty Years of Change in the Vegetation Communities of Three Valley Mires in Suffolk, England

Wanda Fojt and Mike Harding
click here to retrieve

 

 

1999

Re-recording of Bellamy's Plots

SWT – Mike Harding

 
 
 
SSSI citation
Natural England
click here to retrieve
 
 
 
SSSI units and condition assessment
Natural England
click here to retrieve
 
New Fen
2015
Thelnetham New Fen – colonisation of willows on surrounding fen
OHES - Jonny Stone
 
 
2017
New Fen: vegetation monitoring programme fieldwork, June 2017
Jonny Stone
 
Oak Tree Fen (Thelnetham Fen extension)
2017
Oak Tree Fen: vegetation monitoring programme fieldwork, June 2017
Jonny Stone
 Click here for data

 

Parkers Piece/Blewswycks Bank

2009

vegetation monitoring programme pilot

OHES

  Click here for data
 
 
2010
vegetation monitoring
OHES

 

 

2010

Stoneworts

Nick Stewart

 
 
2017
Parkers Piece: vegetation monitoring programme fieldwork, June 2017
Jonny Stone
 
 
2017
Bleyswycks Bank: vegetation monitoring programme fieldwork, June 2017
Jonny Stone
 Click here for data

 

Scarfe meadows

2011

habitat restoration report

OHES

 
Thelnetham Fen
1959
Permanent plot data
David Bellamy: PhD thesis
 
 
1961
Transactions of the Suffolk Naturalists' Society, 11, 367-385
Bellamy, D.J. & Rose, F.

 

 

1992

Middle Fen - NVC

SWT (Mike Harding)

 
 
1995
Thirty Years of Change in the Vegetation Communities of Three Valley Mires in Suffolk, England
Wanda Fojt and Mike Harding
click here to retrieve

 

 

1999

Re-recording of Bellamy's Plots (Old Fen) and a new Middle Fen plot

SWT – Mike Harding

 
 
2002
Plant communities of Thelnetham Fen SSSI, Suffolk (NB 3 files, first is 14MB, next is just p. 23 and third is pp. 56 & 57!
ELP for SWT
 
 
 
SSSI units and condition assessment
Natural England
click here to retrieve
 
 
2004
Important Stonewort Areas -Summary NB we have hard copy only of the full report
Plantlife International - Nick Stewart

 

Webbs Fen

2011

habitat restoration report

OHES

 
 
2017
Vegetation monitoring programme fieldwork, June 2017
Jonny Stone

 

Little Ouse

2013

Little Ouse River Macrophyte Survey

OHES

Birds

 

 

 

 

 

 

Betty's Fen

 

 

 

 

 

Blo'Norton Fen

 

 

 

 

 

Broomscot Common

2011

LOHP Bird Surveys 2011

 

 

RHW & RA Langston

 

 

2012

LOHP Bird Surveys 2012

RHW & RA Langston

 
 
2013
LOHP Bird Surveys 2013
RHW & RA Langston

 

Hinderclay Fen

2007-2012

Bird report

RHW & RA Langston

 
 
1998-2010
Ringing totals report
J Clark
 
 
 
 
 
 

 

The Frith

 

 

 

 

 

The Lows

 

 

 

 

 

Parkers Piece/Blewswycks Bank

 

 

 

 

 

Scarfe meadows

2011

LOHP Bird Surveys 2011

RHW & RA Langston

 

 

2012

LOHP Bird Surveys 2012

RHW & RA Langston

 
 
2013
LOHP Bird Surveys 2013
RHW & RA Langston

 

Webbs Fen

2011

LOHP Bird Surveys 2011

RHW & RA Langston

 
 
2012
LOHP Bird Surveys

RHW & RA Langston

 
 
2013
LOHP Bird Surveys 2012
RHW & RA Langston
Mammals
 
 
 
 
 
 
All sites (river bank only)
2014
Water Voles (Key:

S – sighting

L – breeding latrine

D – droppings ie individual pellets

B- burrow)

Suffolk Wildlife Trust (map)
 
Bettys Fen
2011
Water Voles
Suffolk Wildlife Trust (map)
 
Blo'Norton Fen
2011
Water Voles
Suffolk Wildlife Trust (map)
 
Blo'Norton Little Fen
 
Water Voles
Suffolk Wildlife Trust (map)
 
Broomscot Common
2011
Water Voles
Suffolk Wildlife Trust (map)
 
Hinderclay Fen
2015
Bat detector survey summary results: June 2015
 
 
Hinderclay Fen
2015
Bat detector survey summary results: May 2015
LOHP/Norfolk Bat Survey
 
Hinderclay Fen
2011
Water Voles
Suffolk Wildlife Trust (map)
 
Hinderclay Fen
2007
Bat detector survey
Suffolk Bat Group
 
The Frith
2011
Water Voles
Suffolk Wildlife Trust (map)
 
The Lows
2011
Water Voles
Suffolk Wildlife Trust (map)
 
Parkers Piece/Bleyswycks Bank
2011
Water Voles
Suffolk Wildlife Trust (map)
 
Parkers Piece/Bleyswycks Bank
2017
Water Voles
LOHP - for national PTES survey
 
Scarfe Meadows
2011
Water Voles
Suffolk Wildlife Trust (map)
 
Scarfe Meadows
2011
Water Voles
OHES (habitat restoration report)
 
Scarfe Meadows
2017
Water Voles

LOHP - for national PTES survey

 
Webbs Fen
2011
Water Voles
Suffolk Wildlife Trust (map)
 
 
2011
Water Voles
OHES (habitat restoration report)
Reptiles & Amphibians
Betty's Fen
 
 
 
 
 
Blo'Norton Fen
 
 
 
 
 
Blo'Norton Little Fen
 
 
 
 
 
Broomscot Common
 
 
 
 
 
Hinderclay Fen
 
 
 
 
 
The Frith
 
 
 
 
 
The Lows
 
 
 
 
 
Parkers Piece/Bleyswycks Bank
 
 
 
 
 
Scarfe Meadows
 
 
 
 
 
Webbs Fen
 

 

 
 

 

 

 

 

 

 

Invertebrates

 

 

 

 

 

 

Betty's Fen

2010- 12

molluscs

Abrehart Ecology

 

 

2010

aquatic Hemiptera-Heteroptera

Geoff Nobes

 
 
2011
terrestrial invertebrates
Andy Godfrey
 
 
2021
terrestrial and aquatic invertebrates
Steve Lane
Click to download
 
Blo'Norton Fen
2018
aquatic invertebrates
Abrehart Ecology

 

 

2010-12

molluscs

Abrehart Ecology

 

 

2010

aquatic Hemiptera-Heteroptera

Geoff Nobes

 
 
2011
terrestrial invertebrates
Andy Godfrey

 

 

2012

molluscs

Abrehart Ecology

 
 
2021
terrestrial and aquatic invertebrates
Steve Lane
Click to download

 

Blo'Norton Little Fen

2012

molluscs

Abrehart Ecology

 

 

 

 

 

 
 
Broomscot Common
2018
aquatic invertebrates
Abrehart Ecology

 

 

2013

molluscs and aquatic invertebrates

Abrehart Ecology

 

 

2013

Aculeate hymenoptera

Geoff Nobes

 
Carr Meadow
2019
terrestrial invertebrates
Steve Lane

 

Hinderclay Fen

2010

aquatic Hemiptera-Heteroptera

Geoff Nobes

 

 

2010-12

molluscs

Abrehart Ecology

 

 

2011

terrestrial invertebrates

Andy Godfrey

 

 

2013

aculeate hymenoptera

Geoff Nobes

 
 
2021
terrestrial and aquatic invertebrates
Steve Lane
Click to download

 

The Frith

2010-12

 

molluscs

 

Abrehart Ecology

 

The Lows

2010-12

 

molluscs

 

Abrehart Ecology

 
New Fen
2019
terrestrial invertebrates
Steve Lane
 
Parkers Piece/Bleyswycks Bank
2019
terrestrial invertebrates
Steve Lane

 

 

2010-12

molluscs

Abrehart Ecology

 

 

2011

terrestrial invertebrates

Andy Godfrey

 

 

2010

aquatic Hemiptera-Heteroptera

Geoff Nobes

 
Reeves Meadows
2019
terrestrial invertebrates
Steve Lane
 
Scarfe meadows
2018
Aquatic invertebrates
Abrehart Ecology

 

 

2013

molluscs and aquatic invertebrates
Abrehart Ecology

 

Webbs Fen

2019

terrestrial invertebrates

Steve Lane

 

Little Ouse

2013

Little Ouse River Macro-invertebrate Survey 2013 - report

Abrehart Ecology

 
 
 
Raw data for above (Excel spreadsheet)
 
click to download
1
NVC: National Vegetation Classification
2Ecology, Land and People