Habitat Management
Habitat Management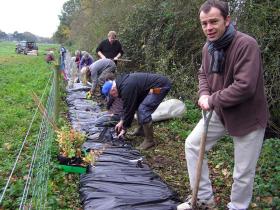 In this section you can view documents relating to the way in which the Little Ouse sites are managed for their important wildlife and for public access. These include'vision' documents assessing the conservation potential of the area, and working documents detailing the plans and schedules for current and future management of LOHP sites.
In 2003 Norfolk and Suffolk County Councils became partners in a European-funded project - the Transnational Ecological Networks or 'TEN' project - that aimed to provide best practice examples of wetland corridor restoration. This focussed on the Waveney-Little Ouse valley and comprised a number of sub-projects, including the LOHP, delivering restoration work in different parts of the valley. At the outset of the TEN project a vision document was prepared by Jeremy Purseglove setting out the potantial of the valley for ecological restoration. To view the TEN Vision document click here. In 2006, at the end of the project Jeremy Purseglove assessed its outcomes. Click here to read his final report.
To see the LOHP's five-year site management plan, prepared in 2013, click here and for the schedule of work that accompanies the plan click here.
The Conservation Statement outlining the plans for the initial stages of restoration of New Fen, Thelnetham, purchased by the LOHP in 2014, can be viewed here.