News
A fantastic new site and a massive new grant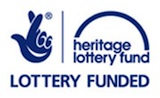 A fantastic new site and a massive new grant herald a new phase in the LOHP's development. The LOHP is delighted to announce the purchase of a new site that has been funded with part of a new Heritage Lottery Fund grant. The site is one of the key links in the chain of fens along the valley. Called Webbs Fen after its former owner, Mr John Webb, it adjoins our Bleyswycks Bank site, through which it reunites the two isolated fragments of Thelnetham Fen that are managed by the Suffolk Wildlife Trust. Its purchase will benefit the wildlife of all of these sites. A restoration programme over the next year will recreate fen habitats. New public access will be opened by the end of the year, when the restoration work is completed.
The Heritage Lottery Fund grant that made this purchase possible, contributes a massive £370,400 to a wide-ranging £474,880 project, with the balance being contributed by other sponsors through the LOHP's River Link Appeal and by 'in-kind' contributions of volunteer time. The project will encompass the restoration of Webb's Fen and of the LOHP's other two new sites in Garboldisham - Scarfe Meadows and Broomscot Common. It will also enable the LOHP to expand its range of activities, working with other organisations and individuals to increase community involvement in protecting, understanding and celebrating the local landscape heritage. To find out more about this exciting new project and how you can become involved, click here. The LOHP is very grateful to the Heritage Lottery Fund, to the lottery players and to its other sponsors for the very exciting opportunities presented by this project.
Release date:
Monday, February 14, 2011
Why 'bash scrub'?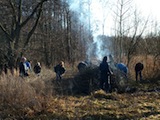 Our first work party of 2011 saw 25 people 'scrub bashing' at Blo'Norton Fen. Although scrub and wet woodland are a very important part of the mosaic of habitats that make up the Little Ouse headwaters wildlife sites, tree suckers and seedlings are continually invading ares of open, wet fen. To maintain these areas, many of which are internationally important for their rare plants and animals, we have to keep removing tree seedlings and saplings. As well as making a very important contribution to the management of our sites, a good bonfire with good company, coffee, cakes, is excellent recipe for a winter Sunday morning! Click here to find out more about LOHP workparties. 
Release date:
Sunday, January 9, 2011
Management resumes on Broomscot Common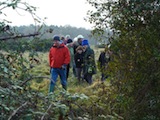 Management resumes on Broomscot Common, one of the LOHP's new sites in Garboldisham. A record turnout at the pre-Christmas work party enabled us to show newcomers round the site and to make a start on some of the management tasks needed to restore its important wildlife features. Spurred on (perhaps!) by mulled wine and mince pies instead of the usual coffee and biscuits, a good start was made on clearing some of the willow scrub that has colonised the belt of wet fen bordering the stream. This will help rarer fen plants to re-establish - plenty of scrub will be left on drier parts of the site to encourage nesting birds such as turtle dove and linnet.
Release date:
Friday, December 31, 2010
The LOHP moves west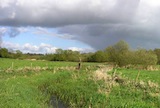 The LOHP is delighted to announce that it has recently acquired two more important wildlife sites in the Little Ouse headwaters. Both are in the parish of Garboldisham, immediately west of our existing sites. We have taken on a 22 year lease of Broomscot Common, which is owned by the Garboldisham Parish Charity, and purchased a block of river-side meadows. These will be named Scarfe Meadows, after David Scarfe, their late owner - we are very grateful to our members and to the charitable trusts whose generosity made this acquisition possible. We are now looking forward to working with a new parish to restore the wildlife and landscape of these sites and to improve public access.
Release date:
Thursday, November 4, 2010
Pages