News
Lapwings give thumbs up to Webbs Fen restoration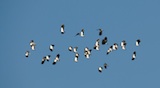 Three pairs of lapwings recently endorsed the newly restored wetland areas of Webbs Fen by deciding to nest there. Breeding numbers of these once-common and lovely birds, with their haunting pee-wit cry and 'tumbling' display, have declined continuously on lowland farmland in the UK since the mid-1980s. Because of this they are now 'red listed' in the UK.  Sadly, we not optimistic about our lapwings' chances. The eggs are very likely to be lost to predation by the very large, local carrion crow population, which has thrived on broadcast pig food on local pig farms.
Release date:
Wednesday, March 28, 2012
Garboldisham Primary School bonds with Broomscot Common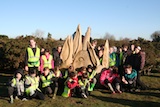 Garboldisham Primary School bonds with Broomscot Common – and its new rabbits! One of the many successful aspects of our current Heritage Lottery programme has been the opportunity that it has given for the children of Garboldisham to extend their creative learning programme onto their local common. Enthusiastic teachers, governors, volunteers and children have all contributed to measuring, recording, experimenting with, and just plain enjoying, their new outdoor classroom. Head teacher Alice Hemmings said this helped the school attain it recent 'outstanding' OFSTED inspection report.
Release date:
Monday, January 16, 2012
Christmas present for Scarfe Meadows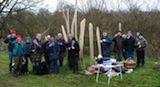 Despite the now-traditional mulled wine and mince pies at the pre-Christmas work party, a good turn-out of volunteers at Scarfe Meadows planted new stock to infill the gaps in the old hedge along the north side of the meadows. In spring the hedge is always full of bird song, providing nest sites for many species including yellowhammer and lesser whitethroat. At this time of year it provides food and shelter for many species including winter visitors such as redwing and fieldfare - the new planting will ensure that it remains rich in wildlife for many years to come.
Release date:
Thursday, December 29, 2011
Alien invasion shock at LOHP members evening

The LOHP's 2011 annual talk on 6th December, by Mike Sutton-Croft of the Norfolk Biodiversity Service, highlighted the threats to our native plants and animals from alien invaders - often green but definitely not Martian! Click here to find out more about non-native species in Norfolk. The evening was also marked by our presentation to retiring trustee Dan Haskin, of a beautiful photograph, by Arthur Rivett, of Thelnetham windmill. Dan was one of our founding trustees and we are very grateful for the huge contribution he has made to the development of the LOHP, particularly in Thelnetham.
Release date:
Wednesday, December 28, 2011
Pages