News
Year of Biodiversity - Newt hunt!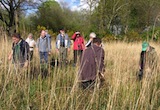 As part of our Year of Biodiversity celebrations, LOHP volunteers enjoyed a course run by Dr John Baker of Amphibian and Reptile Conservation (ARC), learning about identification and monitoring methods for these species. The course ended with a night-time hunt for newts in the ponds of Parkers Piece and the Blo'Norton Fens. The LOHP sites are important for their populations of reptiles (we have slow worms, common lizards, grass snakes and small numbers of adders) and amphibians (we have frogs, toads, smooth and great crested newts).
Release date:
Wednesday, May 12, 2010
Parkers Piece and Bleyswycks Bank are fully open to the public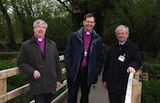 It's official! After 18 months of hard work and the LOHP's newest sites, Parkers Piece and Bleyswycks Bank are fully open to the public. On Friday 10th June the Right Reverend Nigel Stock, Bishop of St Edmundsbury & Ipswich, and the Right Reverend Graham James, Bishop of Norwich, met on the border of their dioceses to open not only these newly restored fens but also 'Bob's bridge. Named after LOHP volunteer Bob Hayward, who masterminded the construction and led the team of volunteers who built it, the bridge links the new Suffolk fens with Betty's Fen on the Norfolk bank of the Little Ouse. Click here to view BBC Suffolk's coverage.
Release date:
Tuesday, May 11, 2010
Pages