Work parties
2020 Work Parties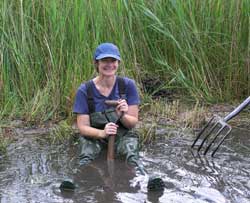 In the pond
Work parties are fun, as well as being vital for the management of the fens!
As well as being a good way to get fit and de-stress, volunteering on work parties makes a huge and direct contribution towards the restoration of the sites that we manage. We are also able to count volunteer labour as match funding towards some of the grants that we obtain for habitat restoration work.
Work parties are held Wednesday mornings 9.30am until 1pm (sometimes all day) and on the second Sunday in most months starting at 10.30am.
Please come for as little or as much time as you like and bring your friends along - all contributions are valuable. You will need wellies or strong boots and old clothes - we will provide tools, gloves and refreshments.
If you are interested in joining us, please contact Ellie Beach Conservation Manager on 07919 912045 ellie.beach [at] lohp.org.uk or Reg Langston on 01379 898009. To find out more about work parties read our Practical Conservation Volunteer Role Description. 
Forthcoming Sunday Work Parties are:
| Date | Details |          Venue                                      Leader |   |
| --- | --- | --- | --- |
| 17 May | CANCELLED |                                    |   |
| 12 July | Invasive species removal |          Parkers Piece, The Lows         Reg |   |
| 9 Aug | Flower ID and path maintenance |          New Fen                                    Reg |   |
Note: There are usually no Sunday work parties in May and June so as to avoid the bird nesting season, but we do lead guided walks and hold identification sessions instead.
Occasionally it is necessary to change the work party venue at short notice. Please let us know that you are coming in advance to receive up to date information or phone the named work party leader:
Ellie Beach - Conservation Manager on 07919 912045
Reg or Rowena Langston on 01379 898009
Nigel Clark on 01379 890460
Jo Pitt on 01379 898684
Helen Smith on 01379 687680