News
Help save Reeves Meadows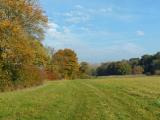 We are excited to have a once-in-lifetime opportunity to purchase a key piece of land which provides both a vital link in our chain of wildlife sites along the Little Ouse river, and a new gateway for visitors to the valley. Reeves Meadows run from ancient Thelnetham Church down to the river, and reunite the rich wildlife sites of Hinderclay Fen and the Thelnetham and Blo-Norton Fens. They also link Carr Meadow, our most recent acquisition, to these sites, providing even greater possibilities for enhancing the wildlife and landscape of this already internationally important area. The opportunity to provide a discrete parking area close to the road will be welcomed by the many people who enjoy walking the valley's many footpaths and discovering its rich wildlife, from otters to orchids.
To secure Reeves Meadows as an integral link in the Little Ouse wildife corridor, and for the enjoyment of future generations, we urgently need to raise £140,000. Please visit our appeal page and help make this dream a reality.
Release date:
Friday, January 11, 2019
Outstanding Contribution award for LOHP volunteer

The Community Action Suffolk Awards 2018 included another award for the LOHP. Many congratulations to Reg Langston who won The Ian Campbell MBE Award for Outstanding Contribution to Volunteering. Reg was a founder member of LOHP and continues to be a backbone of the project. He was nominated for the award by our outgoing Conservation Manager, Rob Martyr. The awards were made at a ceremony at the Museum of East Anglian life in Stowmarket
Release date:
Wednesday, November 21, 2018
Recruitment - Conservation Manager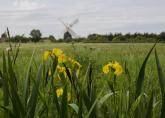 We are recuiting for a Conservation Manager to run our day-to-day operations and help develop the future of our organisation. This exciting job opportunity is a full-time, 3-year post, (37.5 hours per week - some evening and weekend working will be required), for a salary of £27,000 p.a.  Please note that application window for this post has now closed.
Release date:
Wednesday, October 24, 2018
National award recognises the LOHP's work

We're excited and honoured to announce that we've won the prestigious CIEEM (the Professional Membership Body for Ecologists and Environmental Managers in the UK and Ireland) NGO Impact Award against strong national competition. The award was announced on the summer solstice at a ceremony in the grand surrounds of the Merchant Taylors' Hall in Threadneedle Street, London - a far cry from the Little Ouse Headwaters! It recognises the achievements of the dedicated and dogged LOHP volunteers over the last 16 years, working to restore and reunite the precious valley fens, as well as heaths and meadows, alongside the upper reaches of the Little Ouse. We're very grateful to CIEEM and to the awards sponsors WildCare.
Release date:
Thursday, June 21, 2018
Pages